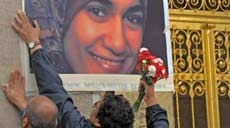 BERLIN
— The eastern city of Dresden, where a hijab-clad Egyptian was stabbed to death by a racist, is planning to honor the brave pregnant woman whose killing has sparked anger in the Muslim world and shaken the German society to its core.
"A meeting with town representatives and the Central Council of Muslims is set to take place next week to decide how we can honor her," Kai Schulz, Dresden Mayor's spokesman, told Agence France Presse (AFP) on Tuesday, July 14.Marwa Al-Sherbini, 32, was stabbed to death by a 28-year German of Russian origin in a courtroom in Dresden on Wednesday, July 1.He stabbed the four-month pregnant woman at least 18 times before she was to testify against him for abusing and insulting her for wearing hijab.
Sherbini's husband, who had attempted to shield his wife, was injured by both the assailant and security guards who assumed he was the attacker.
"We are thinking of naming one of the city's streets after her," said Dresden's immigration officer Marita Schieferdecker-Adolph.
Officials said they would discuss the ways to honor Sherbini with her family.
But back in Cairo, her despairing father had only one request from the German authorities.
"The death sentence for my daughter's murderer," told Bild daily."And the policeman who shot my son-in-law should receive the highest possible punishment."
He lamented the reaction of the German authorities to his daughter's brutal killing.
"We first found out about Sherbini's death through a friend. The German authorities never told us.
"That was irresponsible of them and shows they don't care."
Hero
Sherbini's death has sent shockwaves through the German society, where many are galvanized by the crime and its implications.
Earlier this week, more than 1000 people, including government officials, joined a public memorial, organized by local civil rights groups, in her honor.
Many of the mourners placed white roses on the steps of Dresden's city hall.
Sherbini, a pharmacist, continues to draw sympathy and solidarity from many Germans.
You were a courageous, self-assured woman. You didn't let the guy who called you a 'Muslim whore' and 'terrorist'… get away with it," columnist Franz Josef Wagner wrote in a letter to Sherbini published in Bild.
Sherbini had initially filed a complaint against her murderer, identified only as 28-year-old Alex W, in 2008.
"You would still be alive today if you dismissed the man as an idiot, silently endured his racism. You didn't do any of these things because you are not a coward," wrote Wagner.
"You were not intimidated. You were a proud Muslim. You died because you refused to be insulted. You are my hero."